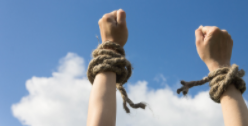 Human Trafficking 
What it entails
Human trafficking is modern slavery that involves the recruiting, transporting, transferring, harboring and receiving a person by force, fraud or coercion to obtain some type of labor or sex act.
Why it matters 
Every year, thousands of men, women and children fall into the hands of traffickers, in their own countries and abroad. 

There are over 40 million people in some form of slavery globally

A large percentage of forced labored slaves are children

Human trafficking generates billions of dollars annually at the expense of someone's life

Every person is precious and each has a unique story to tell and dream to fulfill. 
What we can do
Pray and intercede for the victims and perpetrators 

Bring awareness and educate on the different forms of human trafficking – (sex trafficking, organ trafficking, forced labor, child soldiers, and forced marriage.)

Teach prevention by listing .the warning signs and how to identify pimps and victims

Partner with organizations 

Give with time and finances 

Speak up and advocate for movements of justice in communities and government

Know the myths of human trafficking

Provide aid to victims and survivors
Resource Links
International Justice Mission

is a global organization that protects people in poverty from violence. We partner with local authorities in 21 program offices in 14 countries to combat trafficking and slavery, violence against women and children, and police abuse of power

International and Domestic Law

helps to monitor and combat trafficking of persons

Literary Novel:

Renting Lacy – A Story of America's Prostituted Children

by Linda Smith with Cindy Coloma. This story steps into the darkness of the trafficking underworld. Meet the actual people who live there. Hear their words – and sense the terror and despair.

Video Media:

What Would You Do? Interview with Debbie Wright

  – Debbie Wright shares how she discovered sex traffickers living next door.
What God says:
Proverbs 31:8-9 –

Speak up for those who cannot speak for themselves, for the rights of all who are destitute. Speak up and judge fairly; defend the rights of the poor and needy.

Genesis 1:27 –

  So God created man in His own image, in the image of God He created him; male and female He created them.

Isaiah 61:1-2 –

The Spirit of the Lord God is upon me, because the Lord anointed me to bring good news to the humble; He has sent me to bind up the brokenhearted, to proclaim release to captives and freedom to prisoners; to proclaim the favorable year of the Lord and the day of vengeance of our God to comfort all who mourn…

Mark 12:30-31 –

and you shall love the Lord your God with all your heart, and with all your soul, and with all your mind, and with all your strength. The second is this: 'You shall love your neighbor as yourself.' There is no other commandment greater than these.

Isaiah 58:1-10 – Is that what you call a fast, a day acceptable to the Lord? "Is not this the kind of fasting I have chosen: to loose the chains of injustice and untie the cords of the yoke, to set the oppressed free and break every yoke?